HISTORY OF CARPET CUSHION
In the early twentieth century, Americans placed carpet cushion beneath area rugs for added comfort underfoot and increased insulation. Eventually, carpet cushion use was expanded as homeowners took advantage of its inherent thermal qualities for increased insulation.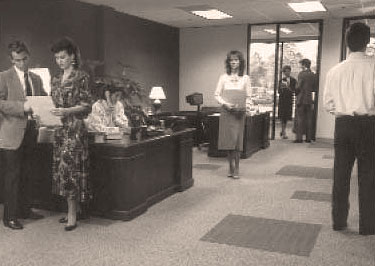 Some of the first carpet cushion was made from cattle hair, obtained as a by-product of the leather tanning process, because of its great resilience and durability. However, between the 1930s and 1950s, the tremendous growth of the tufted carpet industry caused an increase in carpet production, which exceeded the availability of cattle hair. Gradually, hair carpet cushion became a mixture of the jute plant because its qualities were similar to those of cattle hair. Today, this natural fiber underlay of hair and rubberized jute comprises about 2 percent of the current carpet cushion market.
Synthetic carpet cushion, also part of the fiber cushion family, is made by needlepunching off-grade carpet fibers. Although synthetic carpet cushion use has experienced rapid growth over the last three decades, it constitutes about 5 percent of the current carpet cushion market.
After World War II -- to meet the burgeoning demand for tufted carpet -- sponge rubber carpet cushion emerged. Made from natural rubber or styrene and butadiene rubber developed by tire companies during the war, sponge rubber is, by definition, an elastic porous mass with interconnecting cells obtained by combining rubber with blowing agents under heat-intense conditions. This gives the cushion its sponge-like effect. Today, three plants in the United States manufacture sponge rubber carpet cushion, totaling about 4 percent of the carpet cushion market.
The remainder of today's carpet cushion business in the United States belongs to polyurethane foam -- both prime and bonded -- mainly because of its versatility, permitting it to be used in the manufacture of prime, graft, densified, bonded, and mechanically frothed carpet cushion. Each year, around 700 million pounds of polyurethane foam trim is gathered from all over the world from the manufacture of such items as sofas, chairs, mattresses, automotive interiors (i.e. door panels, seat cushions, etc.), textiles and clothing. This polyurethane foam trim is compressed, baled and transported to approximately 30 U.S. factories where it is recycled into bonded carpet cushion, making it one of the largest uses of recycled materials in the world.