GREEN LABEL +PLUS PROGRAM
Green Label Plus (GLP) is an independent laboratory testing program that certifies carpet, adhesives, and cushion with very low emissions of Volatile Organic Compounds (VOCs)


Green Label Plus:

Sets high standards for Indoor Air Quality (IAQ)
Identifies low VOC emitting products available on the market
Uses scientific methodology and shows industry's commitment to a better indoor environment



Using GLP-certified products may qualify you to earn credits for Leadership in Energy and Environmental Design (LEED) and other Green Building programs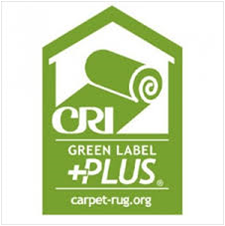 The Carpet Cushion Council is the administrator of The Carpet & Rug Institute (CRI) Green Label Plus (GLP) program for cushion. Firms desiring to qualify products under the program must complete and execute a CRI Green Label Plus Participation Agreement provided by the Carpet Cushion Council and satisfy other pre-enrollment requirements.
Applicants submit product samples for testing of Total Volatile Organic Compounds (TVOCs), emissions of the 35 chemicals listed in CDPH 01350 and an additional two mandatory VOCs (i.e. Butylated Hydroxytoluene (BHT) and 4-Phenylcyclohexene (4-PCH)). These emissions are measured against prescribed limits after 14 days under ASTM Method D 5116. Product testing is performed by an independent testing laboratory approved under the program. The program is accredited by the American National Standards Institute (ANSI). GLP certification qualifies the product for US Green Building Council (USGBC) credits under Leadership in Environmental Engineering and Design (LEED) version 4.
Upon successful initial testing, a product label ID number (assigned by CRI) is issued to the applicant. The participant is permitted to use the CRI Green Label Plus program logo on the approved product category in conformity with the CRI GLP Brand Standards. The label can be used in product literature, on hang tags and sample backs, etc. Use of the label is not allowed until the product is certified by the program. Participants in the program are informed of the results of tests by means of a written report from the Carpet Cushion Council indicating whether the tested sample meets the program limits.
Following acceptance in the GLP program, the Carpet Cushion Council annually collects a sample of the approved product category for assessment of TVOCs and for each of the mandatory VOC's. All samples are collected using the CRI sample collection protocol and are assessed by the program approved laboratory. Specific details related to the CRI Green Label Plus program requirements can be found on the CRI website. (Link to: www.carpet-rug.org/GLP)
Participation in the CRI Green Label Plus program for cushion is open to and includes both members of the Carpet Cushion Council and non-members.
Below is a list of the companies that currently participate in the Green Label Plus Program. For a list of current Green Label Plus approved products please visit the Carpet and Rug Institute web-link: http://www.carpet-rug.org/glp-cushion-products.html
PARTICIPANTS
---

AMERICAN FIBER CUSHION
207 Recycling Way
Dalton, GA 30722
United States
706-217-1900
www.americanfibercushion.net

---

CARPENTER COMPANY
2600 Jefferson Davis Hwy
Richmond, VA 23234
United States
866-266-6367
www.carpenter.com

---

DALTON FOAM DIVISION OF NCFI
4959 South Dixie Hwy
Dalton, GA 30720
United States
800-241-8778
www.barnhardt.net/dalton-foam

---

DOMFOAM
8785 Boulevard Langlier St.
Leonard, QC H1P 2C9
Canada
514-325-8120
www.domfoam.com

---

DUNLOP FLOORING AUSTRALIA
183 - 187 Newton Road
Wetherill Park, NSW 2164
Australia
61 2 22000071
www.pacificbrands.com.au/our-brands/dunlop-flooring

---

DUNLOP FLOORING LTD. NEW ZEALAND
680 Rosebank Road
Avondale, Auckland 1026
New Zealand
+64 9 905 2680
www.dunlopflooring.co.nz

---

DURA UNDERCUSHIONS, LTD.
8525 Delmeade Rd
Montreal, Quebec H4T IMI
Canada
514-739-1963
www.duracushion.com/

---

FOAM SOLUTIONS INC.
259 Steelcase Road West
Markham, ON L3R 2P6
Canada
905-475-0780
www.foamsolutionsinc.com

---

FUTURE FOAM CORPORATION
10726 Doric St
Dallas, TX 75220-2627
United States
712-323-9122
www.futurefoam.com/

---

HEALTHIER CHOICE
401 Jones St
Dalton, GA 30720-3464
United States
800-872-8426
www.healthierchoice.com/

---

---

INTERFLOOR LTD.
Broadway
Haslingden, Lancashire
BB4 4LS
United Kingdom
+44 (0)1706 238810
www.interfloor.com

---

LEGGETT & PLATT
307 W. 7th St.
Suite 1800
Fort Worth, TX 76102
United States
817-626-6690
www.leggett.com/

---

MOHAWK INDUSTRIES, INC.
The Mohawk Group, Karastan Residential, Mohawk Residential, Mohawk Home
160 S Industrial Blvd
Calhoun, GA 30701-3030
United States
800-241-4494
www.mohawkind.com

---

MP GLOBAL PRODUCTS
2500 Old Hadar Rd
Norfolk, NE 68701
United States
402-379-9695
www.mpglobalproducts.com

---

PALZIV NORTH AMERICA
7966 NC-56 HWY
Louisburg, NC 27549
United States
919-497-0010
www.palzivna.com

---

SCOTTDEL CUSHION, LLC
400 Church St
Swanton, OH 43558-1113
United States
419-825-2341
www.scottdel.com

---

SHAW INDUSTRIES, INC.
Shaw Residential, Tuftex, Shaw Contract, Shaw Hospitality, Patcraft, Philadelphia Commercial
616 E Walnut Ave
Dalton, GA 30721-4409
United States
800-441-7429
www.shawfloors.com

---

TECHNOFLEX
922 Jacques-Pashini
Bois-des-Filion, QC J6Z 4W4
Canada
450-621-7888
www.technoflexintl.com

---

VITAFOAM PRODUCTS CANADA
150 Toro Road
North York, ON M3J2A9
Canada
416-630-6633
www.vpcgroup.com

---