Recycling
RECYCLING SUCCESS STORY
Almost 100% of U.S. residential carpet is installed over carpet cushion. There are several varieties of carpet cushion sold in the United States. These include bonded carpet cushion, fiber pad, latex and synthetic foam rubber, virgin polyurethane foam (known as 'Prime'), and froth polyurethane cushion.
Bonded Foam Carpet Cushion
Since the introduction of polyurethane foam carpet cushion in the late 1960's, the market share for bonded carpet cushion has grown to achieve significant consumer acceptance. Among available carpet pad options, the largest segment, approximately 85-90% of the market, is represented by bonded cushion products.
Post-industrial and post-consumer FPF (Flexible Polyurethane Foam) waste scrap has been converted into new Bonded Foam Carpet Cushion, known as 'Rebond' for many years
Post-industrial FPF waste is generated from block manufacture and trimming scraps during the fabrication of products such as mattresses, upholstered furniture and automotive seating.
Post-consumer FPF waste comes from end-of-life upholstered furniture, mattresses, carpet cushion and automotive interior parts. Post-consumer carpet cushion is recovered during the installation of new carpet. Recycling of mattresses is becoming more common; with some states having organized programs to collect and recycle used mattresses. This represents an additional source of FPF waste.
Scrap gathered from these different sources is then combined and blended to make Rebond.
In recent years. the bonded foam carpet cushion industry has diverted over One Billion Pounds of foam scrap annually from landfills. Finding a home for the large quantity of post-industrial and post-consumer waste generated each year represents a huge challenge as well as an opportunity. This is an incredible recycling success story, repurposing foam scrap which would cover 11,000 football fields each year.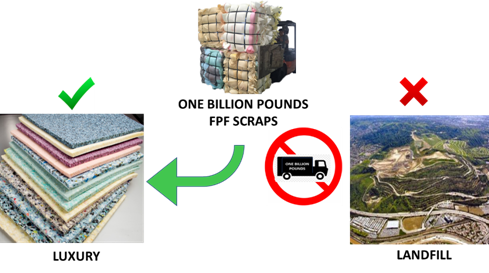 For More Information Contact:
Carpet Cushion Council
www.CarpetCushion.org